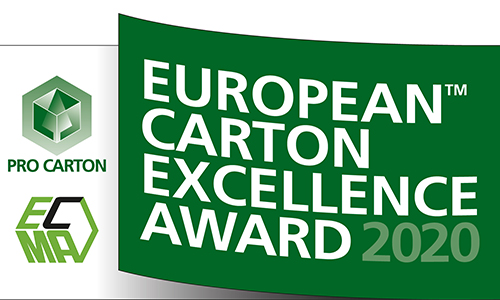 These Awards celebrate excellence in cartonboard using recycled and virgin fibre-based packaging.
The judges of the European Carton Excellence Awards 2020 have crowned Van Genechten Packaging's Roku Gin as the Carton of the Year. The winner was announced during the first ever virtual Carton E-vent & Awards ceremony on 7 October, co-hosted by Pro Carton, the European Association of Carton and Cartonboard Manufacturers, and the European Carton Makers Association (ECMA).
Roku Gin's packaging was created using cartonboard from Stora Enso and was chosen as Carton of the Year for its aesthetic beauty, print and finishing quality and for the way it successfully conveys the product's story. The gift box has six corners which symbolise the six Japanese botanicals used in Roku – which itself means six in Japanese – whilst the embossing and floral print express Japanese courtesy. The packaging provides excellent visibility and protection of the product, while educating and enticing the consumer.
The Innovation Award went to Snel BV's Re-Fruiter Tray with cartonboard from Smurfit Kappa Hoya Papier und Karton. This clever pack features a grid-like tray which has a die-cut profile with a pattern of angled elements that are joined together to form a flexible surface. The recyclable packaging protects soft fruits during transportation removing the need for plastic trays and bubble wrap.
The jury also concluded that Seda International Packaging Group's Eco Fit Lid was a worthy Save the Planet winner. The cartonboard lid, used Stora Enso's new cartonboard manufacturing technology and is perfect for both hot and cold beverages and provides a safe drinking experience. It is fully recyclable and compostable, making it the ultimate sustainable solution to the plastic lids often used by fast food outlets.
The category winners were:
Food & Drink – Virgin Fibre
Cadpack won the Food & Drink Virgin Fibre category with its Korpikuusikkon Honey gift pack made from Metsä Board material. The luxurious pack has a tactile surface and print effects that enhances the customer experience by inviting consumers to touch and feel.
Food & Drink – Recycled Fibre
 Alzamora Carton Packaging won the Food & Drink Recycled Fibre category for its Enovo Egg Carton made with board manufactured by Baden Board.
General Packaging – Virgin Fibre
Edelmann and Stora Enso's ISANA Cosmetics won the General Packaging Virgin Fibre category for its structural design and sophisticated finish.
General Packaging – Recycled Fibre
The Disposable Face Mask from WEIG Packaging and Moritz J. Weig impressed the judges
 Public Award
Lastly, it was Graphic Packaging International's KeelClip™ that was voted the worthy winner of the Public Award. It is a sustainable paperboard packaging solution for multipack cans and is designed to replace the traditional plastic rings that harm wildlife. KeelClip™'s benefits go beyond its environmental advantages as it also offers excellent handling and can dispense features.
 Platinum and Gold Awards were also given to a number of designs that the judges thought were particularly outstanding and deserved special recognition. The winners have used cartonboard produced by the following suppliers : International Paper, Metsä Board, Iggesund (Holmen Group), Graphic Packaging International, BillerudKorsnäs, Stora Enso, Arjowiggins, RDM and Smurfit Kappa.