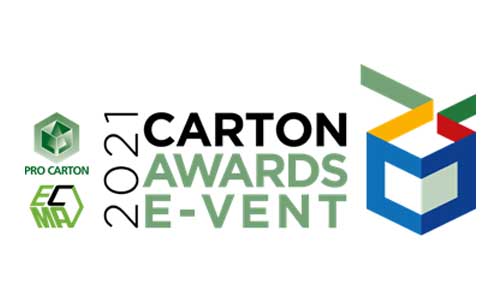 For the second year in a row, the prestigious Pro Carton Awards will take place online due to the continued restrictions imposed across Europe by the COVID-19 pandemic. The E-vent, which will be presented live from London, will take place on 6th September 2021 at 16h00 CET.
Hosted jointly by Pro Carton and The European Carton Makers Association (ECMA), it will be a celebration of the 2021 carton industry award winners – including those who scooped the European Carton Excellence Award, the Pro Carton Young Designers Award and the Pro Carton Student Video Award – and will feature presentations from both associations, as well as a quiz and interaction with the award winners.
Anyone with an interest in marketing, packaging and design – from brand owners and retailers to students, teachers and the media – is welcome to join the whole of the folding cartons industry as it celebrates the very best in innovation.
Commenting on the E-vent, Tony Hitchin, General Manager of Pro Carton said: "We are very much looking forward to welcoming you to our virtual event on 6th September. We had over 1200 join us last year and this year's E-vent should be just as entertaining.  Despite the ongoing challenges brought about by COVID-19, our award winners have succeeded in coming up with some ground-breaking innovations, and we are incredibly excited to share these with the industry. We can't wait to see everyone there!"
To register for the 2021 E-vent, visit https://www.cartoneventawards.com/