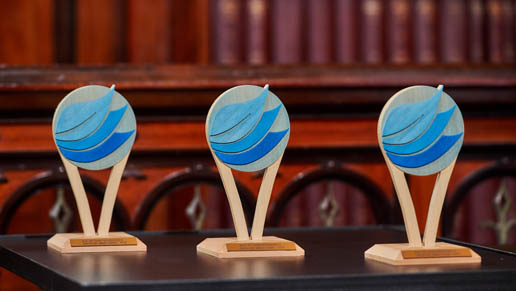 Researchers carrying out projects in a wide range of activities relevant to forest-based science, products using forest-based raw materials, process improvements or other innovations throughout the value chain are invited to submit their application for the Blue Sky Young Researchers & Innovation Award Europe 2019 by 30 September 2019 (see eligibility criteria here below).
From November 2012 onwards, CEPI, the European Confederation of Paper Industries, decided to give more visibility to research and innovation in the paper sector, but also to focus on the part that young researchers play today and are expected to play tomorrow in building the future of the sector.
The award is about research and development; it is also about inspirational innovation for a sector moving towards revealing the bioeconomy potential.
The contest will identify 8 remarkable candidates of which 3 finalists will receive the award and be automatically eligible to the global contest organised by the International Council of Forest and Paper Associations (ICFPA) with a chance to join the prestigious ICFPA Blue Sky Award ceremony in 2021.
All shortlisted candidates will be offered a two day trip to Brussels (accommodation & travel) to join the award ceremony that will take place at CEPI annual conference, Paper & Beyond on 19-20 November 2019 in Marriott Hotel Grand Place.
On top of the round trip to Brussels, the shortlisted candidates will have the opportunity to:
– publically present their research in front of 200 conference participants
– network with an exclusive group of industry CEOs
– attend a personalised public speaking training with an experienced English mother tongue coach
– publish their work via our knowledge partner, the Forest Policy & Economics journal!
Forest Policy and Economics, our knowledge partner for the 2019 award edition, is a leading European scientific journal that publishes peer-reviewed policy and economics research relating to forests, forested landscapes, forest-related industries, and other forest-relevant land uses. All shortlisted candidates will be automatically invited to submit a dedicated contribution* to FP&E Editor in Chief.
Eligibility criteria
Candidates must:
– Have an idea that could revolutionise the paper industry
– Be under 35 years of age
– Currently be working under the supervision of a European research institute or university (however, EU citizenship is not a necessary condition)
– Be fluent in English, with good oral presentation skills
Applications
The procedure is simple: fill in the online form here, including your CV, a supporting letter and a short two-minute video of yourself explaining the project (in English).
Don't miss your chance to apply!
Deadline: 30 September, 2019.