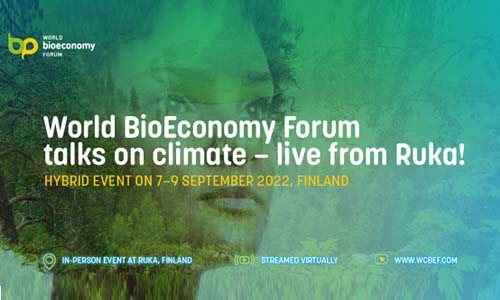 Preparations for the World BioEconomy Forum event to be held 7-9 September have been progressing well. All the  speakers and panellists are confirmed. There will be 50 top level speakers from over 20 different countries representing the latest developments of the circular bioeconomy. 
Programme updates for the Forum can be found from 
here
.
The Forum has decided that this year's annual conference will be held virtually, and will be broadcasted live from Ruka, Finland.
In fact,

 a number of issues are taking place.The original announcement of the Forum 2022 took place just a day before the Russian – Ukraine crisis emerged. Also, Covid-19 is not fully over and there are some signs that infection numbers are 

again

 high , with Finland now 

preparing

 for the 4thvaccination. With these conditions only very few flights are flying up to Ruka. 
This year marks the 5th edition since the Forum was first established in 2018. During this year's conference, the World BioEconomy Forum will raise key discussion topics on the role of the bioeconomy and bioproducts in mitigating climate change. This theme has been highlighted throughout the season through the periodical Roundtables and other activities, and will be captured in the annual Declaration, which will be published on 9 September 2022. 
A brief statement from the Founder, Jukka Kantola "This season has been a marvelous journey and we have learnt a lot on the role of bioeconomy in relation to its role in climate change mitigation. The season will culminate in the annual conference in the beginning of September. By virtual arrangements we will make it easy for everyone to participate in the Forum while maintaining a lower carbon footprint and higher safety."