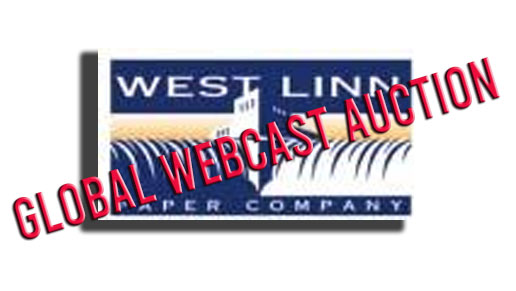 BIDITUP Auctions and Appraisals Worldwide and Maynards, global leaders in asset conversion is announcing that the entire plant and assets of West Linn Paper Mill will soon be coming to auction. West Linn Paper Mill is closing its door after 128 years as one of the Oregon's premier industrial businesses. This significant 2-day global "online only" webcast auction of some of the most sought-after assets in the paper milling industry will take place on Wednesday and Thursday June 19th & 20th, 2018, starting each day at 8AM PDT.
There are over 2,000 lots in this huge sale. Featured assets include :
• Complete Fourdrinier Paper Machines (3)
• Coating Plant
• Stock Preparation System Equipment
• Lamb-Grey Roll Wrapping Line
• Maxson Sheeter
• Shop Equipment including : Lab Equipment, Store Rooms, Tool Rooms & Machine Shops
• Rolling Stock including : Forklifts, Scissor Lifts, Roll Clamp Trucks, Industrial Carts & Golf Carts
• Misc. Shop Equipment, Spares & Tools, Electrical, Plant Support Equipment
• Plus Much More !
For a catalog and complete listing of the assets for sale, please visit us on the web at www.biditup.com.
"A sale of this magnitude is really a very important development for the any customers in the paper milling industry — especially those who are looking to upgrade, update or add to their services and equipment with high-quality assets from a well-established company," said Steven Mattes, CEO of BIDITUP. "With over 2000 lots being offered, this opportunity should provide interest to our customers in all industries, as there is literally something for everyone in all asset categories," Mattes added.
This global "online only" webcast auction will commence at 8AM PDT on Wednesday June 19th and Thursday June 20th, 2018. Assets will be available for inspection at West Linn Paper Mill, 4800 Mill Street, West Linn, Oregon 97068. Inspections will take place on Monday, June 17th and Tuesday, May 18th from 9am – 4pm OR By Appointment. For more information please call 818-508-7034 or contact us at smattes@biditup.com.
BIDITUP Auctions Worldwide (www.biditup.com) is a subsidiary of Industrial Assets and was established in 1977 and is a global leader in asset conversion and provides auction, real estate, and appraisal services to a comprehensive array of markets. The company is recognized as one of the world's leaders in the auction industry.
Maynards Industries (www.maynards.com) was founded in 1902. As auctioneers with an established global presence, Maynards conducts over 100 asset auctions and liquidations each year worldwide.