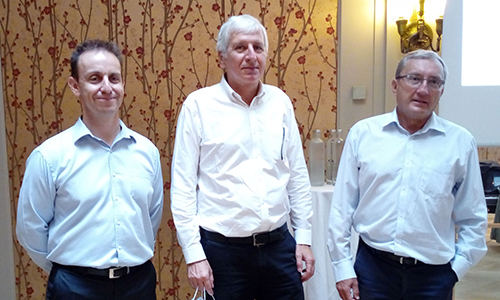 Following the acquisition of the New Zealand company Glidepath at the beginning or 2020 and the appointment of Nicolas Breton as Chief Operating Officer, the group B2A Technology has chosen a new nam, Alstef Group, to address new challenges and drive its development. This new name is part of a new corporate project which focuses on meeting customers' needs, providing a wider range of solutions and mobilizing all its teams worldwide. This impetus and the direction given to its teams are also expressed by the group's new signature : "Beyond Automation".
Alstef Group designs, integrates and supports automated turnkey solutions for the airport, intralogistics and healthcare markets. It is structured in four business units: Alstef, BA Systèmes, BA Healthcare and Glidepath. With a presence in more than 10 countries and installed systems on all five continents, Alstef Group employs more than 850 people and generated revenue of €165 million in 2019.
Under the BA Systèmes banner, the group is, among other industries, present in the paper sector, with the supply of AGV (Automated Guided Vehicles) type logistics equipment, in particular for Clairefontaine, Arjowiggins, Burgo, Clairefontaine, Global Hygiene or Papeteries de Mauduit.
In that respect and in order to better meet the needs for automated storage and handling of pallets and luggage, Alstef Group spent the last two years developing four new AGVs. The two latest ones, a tri-directional AGV capable of dropping-off pallets up to 12 meters high and a compact and agile "turtle" AGV, will be installed and will operate together this autumn at a world-leading cosmetics company. The tri-directional AGV is also relevant for the paper industry.
"The COVID crisis has highlighted the competitive advantage of customers for whom we have installed robotic solutions, said Nicolas Breton. A 3PL customer told me recently that they would not have been able to handle the incredible volume fluctuations of the last few months without our installation". As a key player in the heterogeneous pallet preparation, Alstef Group continues its expansion in the world of parcels and articles thanks to its partnership with Autostore, and has the clear ambition to provide solutions to e-commerce operators.
Finally, Alstef Group is also accelerating its own investment by strengthening its IT teams and committing to the redesign and harmonization of its software suites.
V. L.