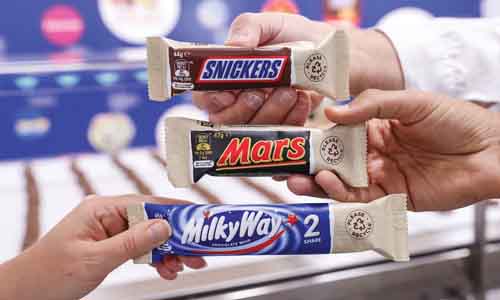 Leading multinational confectionery makers, Nestlé and Mars Wrigley Australia are set to test-launch their iconic chocolates and candy brands in paper packaging in Australia in 2023. The move, if successful, will trigger the 'paperization' of confectionery packaging in Australia, and potentially the Asia-Pacific (APAC) region. With this, paper & board packaging can challenge the dominance of flexible packaging in the Australian confectionery market, says GlobalData, a leading data and analytics company.
Bobby Verghese, Consumer Analyst at GlobalData, comments: "Paper & board packaging materials—primarily folding cartons, trays, and tubs—account for over 10% of confectionery packaging volumes (in million pack units) in Australia*. It is eclipsed by flexible packaging, which contributes over three-fourths of Australia's confectionery packaging volumes*. However, with governments across the APAC region cracking down on single-use plastics, and consumers growing more eco-conscious, confectioners are marching towards sustainable packaging materials and circular economies. This is compelling the shift from plastic to sustainable materials, such as paper."

"However, such a shift entails formidable challenges, such as ensuring that the paper-based packaging material provides adequate barrier protection for chocolate or candy for its shelf life and matches the tactile feel and functionality of plastic wrappers. Also, the packaging needs to survive the rigors of transportation and logistics and ambient weather conditions. Additionally, the material must meet the stringent recyclability requirements of the Packaging Recyclability Evaluation Portal to apply for the Australasian Recycling Label logo. Moreover, confectionery manufacturers have to modify their existing plastic packaging lines to accommodate the new paper-based material."
Nestlé pioneered the transition from plastic to paper packaging in the confectionery industry with the introduction of its iconic Smarties chocolates brand in the first-of-its-kind fully recyclable paper packaging in June 2020. In January 2023, the Swiss food giant announced plans to trial paper-based wrappers for its popular KitKat chocolate bars in Coles Supermarkets in Australia. The company has a head start over Mars Wrigley Australia, which also plans to launch its Mars Bar, Snickers, and Milky Way chocolate bar lines in paper-based packaging in April 2023.
Verghese concludes: "This move will aid Nestlé and Mars Wrigley in lowering their environmental footprint to comply with Australia's 2025 National Packaging Targets for 100% recyclable, reusable, or compostable packaging. Recyclable packaging can also elevate the consumer appeal of confectionary brands, given that 77% of Australian respondents in GlobalData's Q4 2022 consumer survey felt that recyclable packaging was an essential or nice-to-have feature in a product**. If the new paper packaging gains the approval of wholesalers, retailers, and consumers, other confectioners will follow suit and switch to paper-based packaging in Australia, and subsequently the rest of the APAC region in the coming years."
* GlobalData Packaging Intelligence Center ­– Market Analyzers, accessed in January 2023
** GlobalData Q4 2022 Consumer Survey – Australia, with 507 respondents, published in November 2022