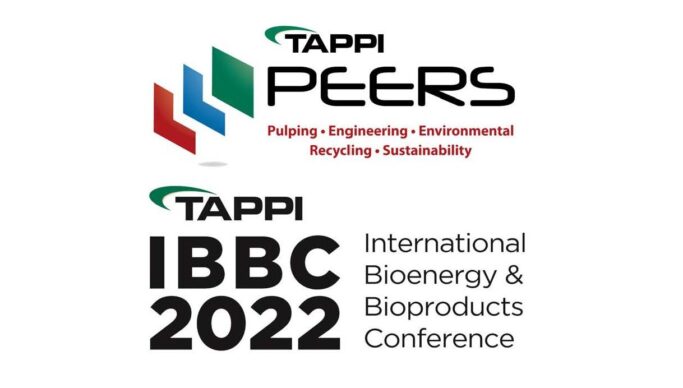 Learn from industry experts and improve your bottom line performance at PEERS/IBBC 2022
Supported by ENP Publishing/ PaperFIRST as a media partner, TAPPI's Pulping, Engineering, Environmental, Recycling and Sustainability (PEERS) Conference has long been known as the premier event for pulp and paper professionals, drawing top leaders from all over the United States, as well as around the world. This year PEERS will be held on October 30 – November 2, 2022 in Providence, R.I. and is co-located with TAPPI's International Bioenergy and Bioproducts Conference (IBBC). Mill executives and employees, as well as other industry professionals, have the unique opportunity to attend both technical programs in one location for only one registration fee. Mills receive special discount pricing.  Click for registration details.
PEERS 2022
PEERS offers attendees a comprehensive, peer-reviewed technical program that addresses some of the key operational issues affecting the pulp and paper industry today. Program tracks include: Environmental; Sustainability; Pulping and Bleaching; Energy, Recovery, Lime Kiln and Recaust; Engineering, Reliability, Corrosion and Materials; Recycling and Nonwood.
Conference highlights include:
Keynote Speaker – David Buchanan, President, Voith Paper North America and TAPPI Board Member
Three Hands-On Workshops – On-line Digital Twin Technology for Your Plant – Have Your DCS Communicate with a Live Simulation Model (new in 2022); Brownstock Washing; and Bleach Plant Operations
Three Expert-Led Panel Discussions – PFAS Issues Facing the Industry, Lime Kiln Maintenance, and Making Packaging Compatible with Paper Recycling
New Technology Showcase – concise presentations highlighting cutting-edge technologies, products and services
Sold Out Exhibit Floor – 34+ leading suppliers available to talk directly with mills about their problems
Hot Topics Breakfasts – stimulating discussions offered in a roundtable format on current operating issues
38rd Annual PaperChase Fun Run/Walk – a popular event that helps students achieve a career in the pulp and paper industry
Learn more about PEERS 2022
IBBC 2022
The IBBC technical program focuses on critical issues associated with biomass. Developed by industry professionals, the peer-reviewed sessions are expert-led and include high-level discussions on industry trends, new technologies and advancements. The technical program includes the following sessions:
Bioenergy Research from DOE National Labs
Innovative Bioproducts and Biopolymers from Biomass
Biomass Pretreatment Methods
Biomass Conversion & Densification
Biomass Conversion Pathways
Learn more about IBBC 2022
Attendees also have the opportunity to attend multiple networking events taking place throughout the four day conferences.