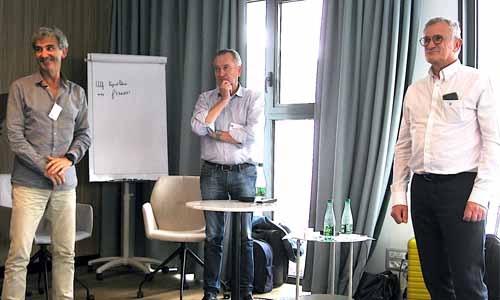 The French Technical Association of the Paper Industry (Atip) organised its second technical day of the year on 23 June in Limonest, near Lyon, dedicated to Artificial Intelligence (AI). The day before, a visit to the company Acoem, a specialist in industrial monitoring and reliability solutions, was organised. This was an opportunity for the many participants to see the technological innovations and resources deployed by this company, which is growing impressively in many sectors, including paper.
Many suppliers explained their approach and their offer in the field of AI: Neovision, Acoem, Allimand, Yxir.ia (EDF group), Dalkia Analytics (partner of Metron), Aspentech, Braincube, ABB and Valmet.
On the paper side, Papeteries du Léman (PDL), DS Smith, Ahlstrom Munksjö (Arches plant), Fibre Excellence, Papeteries de Vizille (Vicat group), LTR (SWM) and Sofidel were present.
The Atip team (Stéphane Marquerie, Patrick Sombret and Virginie Batais) will be meeting with papermakers on 8 and 9 December for the "Journées Papetières" ("Paper Days") organised with Copacel in Paris. The programme will include supplier/ papermaker conferences on operational solutions, the Copacel annual conference, the supplier exhibition, the Palmes de l'Innovation competition (for suppliers), the "Trophées du progress" Competition (for the papermakers), the paper and board product innovation Showroom, and the evening event, which will take place on 8 December at the Cercle des Armées. Make sure you mark your calendars now!