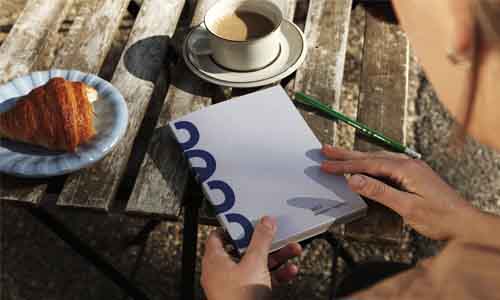 For over two decades, Arctic Paper has collaborated with different creative institutions, and Munken Agenda 2023 has been designed by three talented students at Forsbergs in Stockholm, Sweden. The Munken Agenda 2023 will be released on 1 November.
We at Arctic Paper learn from students, and students learn from working with us. It is this collaboration that has resulted in the creative idea behind this agenda. Using our paper, the concept and the images have taken shape and been brought to life in this exceptional, inspirational calendar.
The message of this year's agenda: All that is needed to create an agenda is typography and paper. Here, past and future generations of typographers meet: Berling from 1951, and Nero Grotesk from 2021. Two chronologically distant typefaces, and typographers, unite in the same work. The Munken Agenda 2023 has been designed by Joakim Eklöf, Oskar Holm and William Hult from Forsbergs in Stockholm, which is a design and advertising school that has a proud history of typography and book design.
Considering the heritage of Forsbergs School, as well as of Munken, this is a perfect opportunity to embrace the historical and symbiotic relationship between paper mills and typography – two disciplines that have been of fundamental importance in communication for centuries.
The visual components illustrating each month experiment with some of the classical typefaces, such as Futura, Garamond and Rockwell. This is an innovative approach to the historically strict and law-abiding nature of typography.
"Designing the Munken Agenda is a challenging task. It is not easy to graphically represent the calendar year. So right from the beginning of our process, we sought out historical typefaces and engineered them to visually harmonise with each specific month. We began experimenting with analogue textures and how these could be implemented by hand – sketching, digitising, and then analogising them once again, using tools such as 3D printers and laser-cutters. The final typographic designs were then photographed or scanned, creating playful yet sophisticated designs", explain the designers.
Details of the Munken Agenda 2023
17,000 copies will be released. The agenda will be available as a limited edition at the Munken Shop in November 2022
Cover: Munken Kristall 400 g/m2
Content: Munken Kristall, Munken Kristall Rough, Munken Polar, Munken Polar Rough, Munken Lynx, Munken Lynx Rough, Munken Pure, Munken Pure Rough – all in 120 g/m2
Print: Komori, Lithrone S40P Hybrid Print Technology. 4-colour CMYK
Ink: Toyo Ink, Flash Dry
Printer: Göteborgstryckeriet, Gothenburg, Sweden
Bookbinder: Förlagshuset Nordens Grafiska, Malmö, Sweden