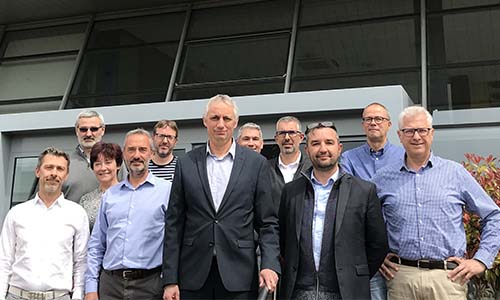 Arcole, an independent management company specialising in supporting SMEs and SMIs in France, has acquired the entire capital of Allimand, the leading French manufacturer of high value-added specialty paper, cardboard and fibrous materials machines. For Arcole, this is the second investment of its Cipango I fund.
Founded in 1850, Allimand produces machines and complete production lines for the specialty paper and non-woven markets. Based in Rives (South East of France, near Grenoble), and with subsidiaries in the United States (including a pilot line) and in China, Allimand employs around 200 people and has a turnover of around €50m. The company offers its international customers customised machines with high technical added value.
With this transaction, Allimand has emerged from its safeguard procedure and continues its development trajectory, thanks in particular to a strengthened management team with the arrival of Patrick Gamet, the new CEO (photo). In addition, Arcole's investment provides the group with a new financial base that will enable it to modernise its industrial tool and management tools and to provide its customers with the guarantees necessary for its international development. Supported by the growth of e-commerce and new environmental standards, the market for high value-added fibrous materials is indeed booming.
"I am very pleased to take over the management of Allimand, which has a long and rich history that has made the group the undisputed leader in MAP, particularly in non-woven materials," said Patrick Gamet. Allimand has the essential assets to conquer market share and establish new partnerships with the big names in the sector. I have every confidence in the skills and professionalism of the teams, who are fully committed to building an ambitious future with the support of our new shareholder Arcole".

Alexandre Bachelier, Partner of Arcole, said: "We quickly became convinced that Allimand has unrivalled know-how and technical expertise in the high value-added fibrous materials market and that the group is driven by an expert and passionate team. Arcole is delighted to write a new chapter in its history with Allimand. »
Franck Rettmeyer, former President and CEO, will support this transition for a period of 12 months as senior advisor. Simon Cena will remain Vice President.
Arcole is an independent management company owned by its partners and manages funds that support French SMEs and SMIs with high growth potential and sales of between €20m and €250m. It was founded by the former directors of the investment holding company Arcole Industries, a long-standing player in French investment since 2009.   V. L.