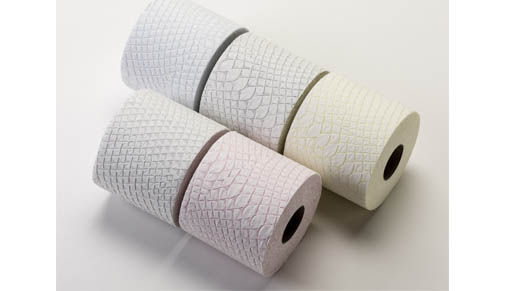 Aquabond was used for the first time back in 2009. A decade later, many satisfied customers consider it the most functional and environmentally-friendly water lamination solution
Ten years have gone by since Aquabond was launched. During this time, Fabio Perini S.p.A. continued researching new state-of-the-art technological solutions for making tissue rolls that improve the final product for consumers, reduce costs for manufacturers, and are environmentally sustainable.
"The original idea that formed the basis of the Aquabond system was to find a solution to eliminate glue when laminating the plies while keeping — and improving — the mechanical features and the quality of the final product," explained Alessandro Borelli, Technical Improvement Program Manager of Fabio Perini S.p.A. "This transformation positively and markedly affected environmental sustainability and encouraged the R&D department to develop new technologies to obtain a roll that would use no glue at all."
The year 2013 saw the birth of Glue Free — a series of technologies to grip the core and seal the tail without any kind of adhesive. And this, combined with Aquabond, resulted in a roll 100% made of paper only.  Today, after 10 years of testing and developments made with input from Fabio Perini S.p.A. customers, the Aquabond embossing process ensures seamless ply bonding, even at very high speeds.
This solution provides all-round benefits for final consumers and manufacturers, as testified to by Antonio Gallina, Plant Manager of WEPA Italia — one of the first companies to set environmentally sustainable products as their goal. "We decided to invest in the Aquabond technology in Italy several years ago, following the Aquabond experience gained by our colleagues in production plants in Europe, he said. "The main objective was to improve production and time efficiencies by using a much cleaner embosser. The result exceeded our expectations! With Aquabond, 3- and 4-ply product logs are softer and smoother.  Paper gets very rigid if any glue is used."
WEPA Italia also realized a 5% increase in line productivity and efficiency. "With the Aquabond system, the benefits also reach machinery," Gallina stated. "Problems related to paper bonding or paper winding on steel rolls and that generate micro-holes on the paper — particularly when making two-ply toilet paper rolls — have been virtually eliminated. The anilox and the cliché rolls, the doctor blade unit, and the embosser are now clean. There's simply no need to stop the whole line in order to clean and lubricate the rolls."
Efficient production, excellent final product quality, and sustainability. With Aquabond, Fabio Perini S.p.A. is confirmed as a leader in innovation and an industry trendsetter. The secret? Having the insight and foresight to make large-scale investments in Research and Development that's based on having a comprehensive overview of the market, carefully listening to customers' feedback, and implementing a holistic approach to the entire tissue manufacturing process.