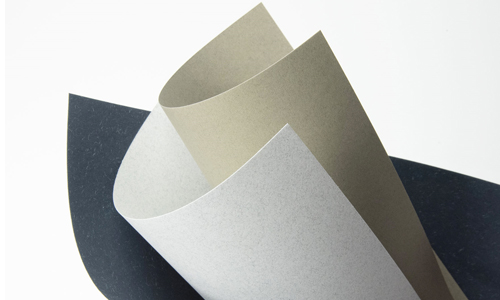 Antalis, Europe's leading distributor of paper, visual communication solutions and industrial packaging products, has reached a distribution agreement with Favini, a leading global producer of graphic specialties, natural fiber-based products (cellulose, algae, fruits, nuts, leather, cotton and wool etc.), used for print and packaging in the luxury and fashion industries. Thus, Antalis is expanding its large offer in creative papers and now distributes Favini's new range of REFIT papers, to address the growing need for premium recycled creative papers.
Conceived and produced by Favini, REFIT papers rely on the application of circular economy principles for their production. Produced through the reutilization of wool and cotton textile fibres that are too short for the textile sector and therefore destined mostly to the landfill, REFIT paper is a prime example of creating a premium product while fighting against waste within an ethical supply chain.
REFIT paper includes 15% wool or cotton fibres, 40% post-consumer recycled cellulose that is FSC certified and 45% virgin cellulose fibres also FSC certified.
"We are delighted with this new distribution agreement. Together with Favini, we are confident that REFIT will satisfy the most demanding of requests for eco-conscious papers and boards with high aesthetic and technical quality" says Xavier Jouvet, Group Marketing & Purchasing Director at Antalis International.
"Thanks to Antalis, our new paper REFIT become a tool to spread the message around the importance of a switch from linear to circular economy. A waste for fashion industry is a precious raw material for high quality and ecological paper." Says Andrea Favini, Export Sales and Marketing Director Favini Graphic Specialities.
One hundred percent recyclable and biodegradable, REFIT offers an extremely distinctive appearance as the residues of wool and cotton remain visible on the surface and benefits from a very authentic feel. Two premium products will be available to Antalis customers:
REFIT WOOL: 15% wool by-product made with white fibers offers a distinctive rough touch feeling and comes in Black or Blue.
REFIT COTTON: 15% cotton by-product made with dark fibers that gives a soft touch feeling and comes in White, Pearl or Grey.
With this agreement, Antalis is now a distributor of REFIT WOOL and REFIT COTTON in France, Spain, Portugal, Benelux, Germany, Switzerland and Turkey.
Antalis is the leader in B2B distribution of Papers (number 1 worldwide outside the United States) and industrial Packaging, and number two in the distribution of Visual Communication media in Europe. In 2019, the Group reported sales of €2.1 billion and employed 4,700 people serving over 115,000 customers, companies and printers in 39 countries. Through its 117 distribution centres, Antalis makes around 11,000 deliveries per day worldwide and it distributed 1.1 million tons of paper in 2019.