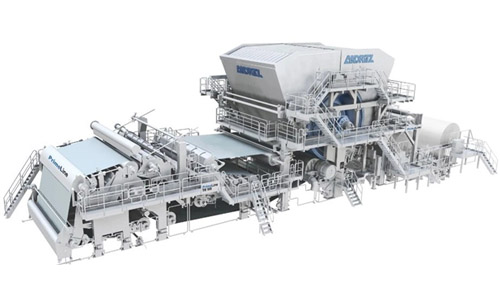 ANDRITZ has received an order from Liansheng Pulp & Paper to supply two tissue machines, including stock preparation equipment, to its mill in Zhangzhou, Fujian Province, China. Start-up is planned for the second quarter of 2022.
The two CrescentFormer tissue machines of type PrimeLineTM W 2000 have a design speed of 2,000 m/min and a working width of 5.65 m. Both are equipped with a large suction press and a PrimeDry Steel Yankee. The Yankee has a diameter of 20 ft. and is made entirely of steel. The PrimeDry Hood ST – steam-heated Yankee hood – is engineered with a steam-heated air system. It operates in a temperature range around 200 °C, which can provide an additional 15-25% drying capacity compared to the Yankee alone. The tissue machine, including all key components, will be manufactured at the ANDRITZ workshop in Foshan, China, while the hoods will be supplied by ANDRITZ Novimpianti, Italy.
ANDRITZ will also provide tailored automation systems, including PrimeControl MCS (Machine Control System), QCS (Quality Control System), pneumatic and hydraulic equipment, and lubrication systems.
The stock preparation systems, using NBKP (Needle Bleached Kraft Pulp) and LBKP (Leaf Bleached Kraft Pulp) as raw material, will feature highly efficient ANDRITZ equipment such as FibreSolve FSV pulpers. As a technological highlight, special refining systems will be applied, consisting of a pulp screw press and an HC refiner, type CDIPL, operating for LBKP at a high consistency of 25%-30%. The innovative refining set-up will enable superior fiber properties with stable runnability. The scope of supply also includes approach flow systems and broke handling.
ANDRITZ has supplied over 10 stock preparation systems to Liansheng Paper since 2009. The successful cooperation as well as the excellent performance of installed technologies prompted the customer to trust in ANDRITZ once again. This order once again confirms ANDRITZ's strong market position as one of the leading suppliers of machines and systems to the Chinese tissue industry and ANDRITZ's expertise specifically in fast, wide tissue machines and resource-saving components like steel Yankees and steam-heated hoods.
Liansheng Pulp & Paper, a new production base of Liansheng Paper, was established in April 2020 in order to enter the household paper production industry. Liansheng Paper is the largest packaging paper manufacturer in Fujian, China, and has a special focus on environmentally friendly production