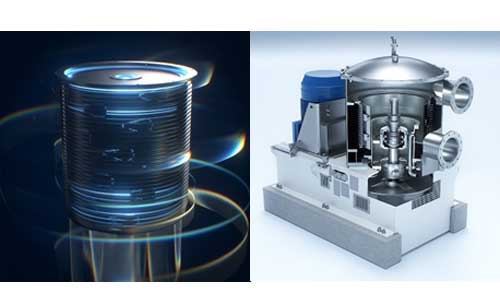 The Screen Booster modular upgrade solution from international technology group ANDRITZ for screens and screen baskets improves screening efficiency, saves energy, and reduces maintenance.
Screens and screen baskets are subject to considerable wear in paper production and require frequent maintenance. ANDRITZ now offers a modular upgrade that can significantly reduce operating costs through reduced fiber losses, less maintenance, improved screening efficiency, and lower energy consumption. The solution is available for most makes and models on the market and usually pays for itself within a few weeks.
The Screen Booster solution consists of four modules: bearing unit upgrades, dilution rotors, Bar-Tec UTwist baskets, and DRUM 400 series rotors. The upgrade modules can be used independently or in combination with one another.
Upgrading the bearing unit significantly increases the service life of the unit. Every unit is customized to fit the particular screen and specifically designed for high production rates, high top speeds, high motor load, and high temperatures. The new design also enables fast shaft removal, thus reducing downtime and maintenance costs.
The dilution upgrade reduces reject thickening and protects the inside of the rotor against contaminants. This solution minimizes fiber losses, increases yield, and reduces maintenance costs. The upgrade is available for most common outflow screens.
The optimized DRUM 400 Dolphin rotor minimizes energy consumption, even at high consistencies. The foil shape ensures minimal flow restriction and creates an optimized pressure zone that provides effective flow distribution over the entire screen basket surface. The suction zone reduces the thickening effect, keeps the basket clean, and improves runnability.
The screen basket upgrade features a Bar-Tec UTwist screen basket, a slotted screen basket that allows the profile height to be adjusted from the feed to the outlet end of the basket without changing the slot width. The wire geometry has a positive effect on the screening efficiency, capacity, and flow properties.