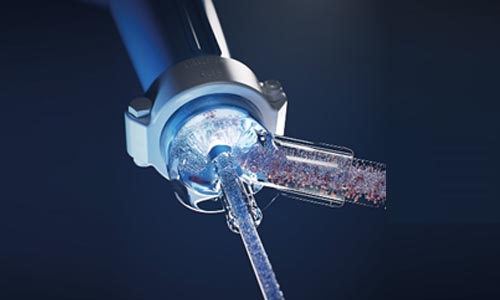 The ANDRITZ Multi Injection Chamber upgrade for cleaner plants prevents frequent blockages and allows separation of much larger dirt particles than before. At the same time, water and energy consumption during the cleaning process are massively reduced.
The biggest problem in the operation of cleaners in paper production is frequent blockages in the cleaner cone. With the Multi Injection Chamber (MIC), ANDRITZ has developed a solution that avoids these blockages. The upgrade is available for almost all cleaning systems on the market.
An important technical feature of the patented ANDRITZ solution is the larger reject area. The outlet is connected to the cleaner cone at a 60-degree angle instead of the 90-degree angle usually found in other designs on the market. Another technical feature is the position of the reject dilution. It is now located underneath the cone so that the vortex inside the cone is no longer disturbed. This new design allows up to four times larger dirt particles to be rejected than with conventional cleaner solutions. Hence, it prevents the cones from becoming blocked. Other positive effects are a reduction in energy consumption by half and water savings of around one third.