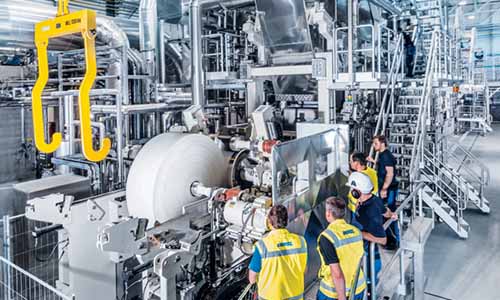 Group ANDRITZ has officially launched its new PrimeLineVRT – Vertical CrescentFormer – tissue machine for the production of dry crepe tissue.
The PrimeLineVRT features a vertical CrescentFormer in the forming section that enhances dewatering of the fiber web. This enables higher dryness right after the press section and an increase in paper caliper. Depending on the grade and basis weight of the paper produced, between two and four additional percentage points of dryness can be achieved after the press section compared to standard CrescentFormer configurations.
"The advantage of this new technology is that we do not need additional fabrics and fabric loops or any extra space in the basement for installation of the equipment.This results in lower building costs as well as easier operation and maintenance compared to similar technologies on the market," says Stefano Marenco, Director of PrimeLineTIAC and R&D Tissue at ANDRITZ.
The PrimeLineVRT was developed and extensively tested at the ANDRITZ Tissue Innovation and Application Center in Graz, Austria. With this new technology that is tailormade for significant improvement of dry crepe production, ANDRITZ once again confirms its strong position as one of the global market leaders for the supply of innovative key components used in conventional to ultra-premium grades within the tissue industry.
For more information about the PrimeLineVRT, contact us at tissue@andritz.com or visit us at the Tissue World Miami trade show from March 11 to 13, 2020, to discuss your next tissue project with our experts at booth no. B15.