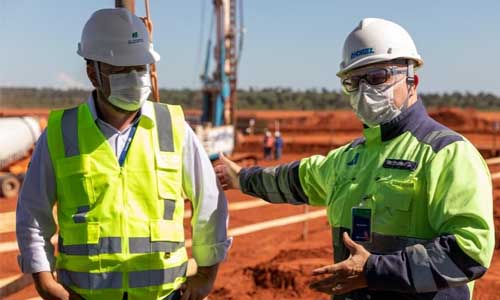 On Wednesday, February 9, ANDRITZ drilled the first pile in the Recovery Boiler area of the new pulp mill that Suzano is building in Ribas do Rio Pardo – Mato Grosso do Sul.
The drilling of the pile marks the beginning of ANDRITZ' activities at the project, of which the scope encompasses the main areas of fiber production process and chemical recovery plant. The new Suzano unit will be the world's largest single line eucalyptus pulp producer, with an annual production capacity of 2.55 million tons of pulp.
Together with FORTES Engenharia, ANDRITZ's partner construction company, the pile was executed in the presence of representatives from the boards of Suzano, ANDRITZ and Fortes, thus reflecting the importance of this milestone in the enterprise.
"ANDRITZ thanks Suzano for the trust and opportunity to collaborate on this large undertaking, and to be able to write together another chapter in this history of partnership and success," says the president of ANDRITZ Brazil, Luis Mário Bordini.