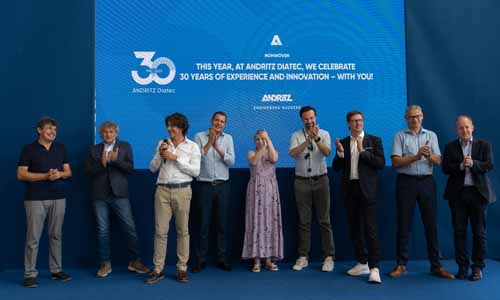 ANDRITZ Diatec is a relative newcomer to the ANDRITZ GROUP, but its pedigree is long and distinguished. In fact, this year it celebrates 30 years serving the hygiene and food packaging industries with converting machinery.
What a journey it's been! Still located in its birthplace of Collecorvino in the shadow of Italy's spectacular Gran Sasso mountain range, everything else about the company has evolved during its 30-year history to reflect and invigorate the sophisticated global markets it serves. Since its inception in 1992, Diatec has consistently adhered to the vision of its founder, Luigi Mancini, to provide advanced, flexible, highly reliable technology with an excellent quality/price ratio.
Since 2018, thanks to the global network of the ANDRITZ GROUP, ANDRITZ Diatec has been able to establish its international presence even more and provide comprehensive support to all its customers and partners, wherever they are.
Led by General Managers Ettore Paolini and Roberto Della Rovere, the company is a beacon of innovation and engineering excellence in the automatic industrial machinery sector for the manufacture of disposable hygiene products for personal care, including baby care, feminine hygiene, and adult incontinence. It is a one-stop shop for all converting technologies in the markets it serves – a true turnkey supplier, providing the best technology for the purpose and with a compelling reputation for sourcing the ideal complementary technologies to complete the project.
ANDRITZ Diatec stands out for the flexibility, agility, and innovative spirit with which it approaches all projects. There was no better proof of this approach than the challenge posed by the COVID-19 pandemic: Within months of the outbreak, the company had not only designed a high-speed (fastest on the market), automated line for the production of disposable surgical and respiratory face masks but also delivered twenty-five of them.
But while we all hope for a world that needs fewer face masks, demand for the core technologies in ANDRITZ Diatec's portfolio is set to grow strongly in the coming years. The company's increasing market share reflects the high Overall Equipment Effectiveness (OEE) and low waste rates for which it is renowned, supported by high-precision mechanical tooling, full servo technology and high levels of automation. Let's take a look at some of the markets individually.
Baby care: In its largest market sector, ANDRITZ Diatec provides turnkey solutions that cover the needs of all producers of baby diapers and baby pants, fully customizable, whatever the production speed.
Feminine care: This sector requires particularly high production capacity, flexibility and efficiency. Customers can take advantage of fast and easy size changes across the full range of production speeds.
Adult care: This converting process requires premium quality and high capacity. ANDRITZ Diatec has it covered, with machines that can produce the complete range of diapers, adult pants and underpads, including zero-waste cutting solutions for both symmetrical and asymmetrical side panels.
Food industry: A wealth of experience in food pads allows ANDRITZ Diatec to tailor machine configurations to the end-product and maximize the customers' production options.
Specialty products: From lamination lines to headrests, gloves and surgical drapes, each converting line can be customized, ensuring the highest production flexibility and end-product quality. The various bonding technologies enable operators to produce diverse end-products and provide a broader range of options for the customer.
The innovation gene
You will never spend much time in the company of one of ANDRITZ Diatec's 80 staff members before hearing the word "innovation" – it's in their DNA. So what are the current key focus areas for its expert engineers and technicians?
One key example is adult pants. In an aging society, this is an essential product sector to ensure an enduring quality of life. Hygiene pants as opposed to diapers are pulled on just like pants with no side straps to adjust. The latest ANDRITZ adult pant converting line uses ultrasonic side seam technology to ensure bonding strength and system reliability without affecting machine speed. But this technology is widely applicable: The stretchable waistband adapts to every movement to provide greater comfort for babies and adults alike, and the ultrasonic bonding makes adhesives unnecessary. This benefits the environment.
More generally, development work at ANDRITZ Diatec has focused on development of the technology range as a whole and on adapting it to specific markets and customer needs. Based on market analysis, the company has established three levels of machine speed: aXcess is for machines at lower speeds, particularly suitable for emerging markets, eXcelle is the category for machines in the medium to high speed range, while eXcelle pro covers high-speed machines for large-volume markets.
ANDRITZ Diatec's agility and attention to customer needs has served it well in a fast-moving market during its first 30 years. While the solutions are technical, however, the attitude is very much human. Examples include its studies into demographics, which opened the management's eyes to under-served regions. Or there is the partnership approach that ensures the machines delivered are always easy to upgrade in terms of speed or specification for future development. ANDRITZ Diatec has always striven to anticipate and focus on individual customer needs.
This is based not only on brilliant engineering, but on insight and that most human of characteristics – passion. It's an approach that was very obvious with the lightning response to the urgent need for face masks during the pandemic. But on a daily basis, it underpins the company's leadership through listening rather than imposing, developing solutions before they are requested, anticipating demands for changes in raw material for reasons of price or sustainability, and nurturing relationships with the best minds – inside and outside the organization – for R&D.
As part of the ANDRITZ GROUP, ANDRITZ Diatec can access world-class expertise on raw materials and complementary processes to give insights into the next generation of converting solutions. It can integrate technologies from other industries and develop solutions that don't yet exist. And it can grow with its customers, from household names to regional niche players, with confidence