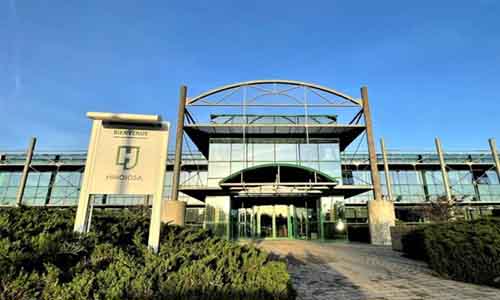 In recent years, Hinojosa Packaging Group has established itself as the leader in sustainable packaging solutions in Southern Europe. The Spanish group made its first acquisition in 2020 by integrating the Portuguese Graphicsleader into its business, and then extended its internationalisation to France in 2021 by acquiring the Allard Emballages group.
After two years of international presence, the group continues its growth process by unifying the brand in France. From now on, all Allard Emballages plants, both in the Packaging and Paper divisions, will operate under the Hinojosa Packaging group logo.
Thus, the group will progressively unify its visual identity for all its sites in France, with a single logo and a single image that reflect its values: trust, excellence, proximity to the customer and positive attitude. This move is also in line with the presentation of the company's new corporate purpose, which is to increase common well-being through sustainable packaging solutions.
The unique brand image represents the strength of a large international group that has the latest technological advances to offer its customers the highest quality standards and the best service. At the same time, the decentralised management model that characterises Hinojosa stands out, guaranteeing greater proximity and a response that is perfectly adapted to the needs of customers, with a more flexible, agile and human service.
This transition has been possible thanks to the local know-how and the values of sustainability and customer orientation that characterised the consolidation of the Allard Emballages brand until its acquisition by Hinojosa and that have allowed the Spanish group to grow and gain the trust of thousands of French companies.