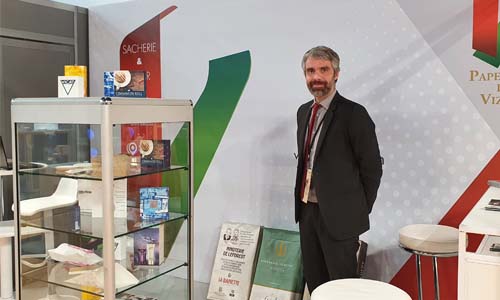 All4Pack Emballage Paris, the international exhibition for all sustainable packaging and intralogistics solutions, closed its doors on 24 November. After a four-year break due to the health crisis, this event, marked by a new positioning, has more than ever demonstrated its importance in terms of business, innovations, content and influence of the sector's players. During four days, nearly 45,000 professionals from 80 countries were able to discover 1,100 exhibitors and brands (50% of which were international). Almost 70% of the visitors were decision-makers or specifiers in the process of selecting and purchasing solutions. All the main user markets were represented: Food (27.5%), E-commerce distribution (13%), Multi-industry (11%), Health/Pharma (8%), Industrial goods (8%), Beauty/Hygiene (5%)…
In addition, the ALL4PACK Innovations Competition featured more than 200 innovations presented by exhibitors. Of these, six innovations were named winners in the following categories: Sustainable and Responsible Solution, Design and Ergonomics, Innovative Technology, Material of the Future, Logistics Performance and Jury's Special Mention.
In order to better decode the regulations, translate the evolutions and identify the current expectations of the market, All4Pack Emballage Paris has also set up a Pack Expert Committee which has notably elaborated the excellent conference program. Indeed, in a dedicated space, about thirty conferences were organised, linked to the major issues of the sector and animated by high level speakers (members of federations, professional associations, representatives of user industries…). Carton ondulé de France (COF), DS Smith, Citeo and Léko were among the speakers for the paper and board industry. In particular, they recalled all the advantages of this material, especially in terms of durability, recyclability and effective recycling… However, although paper and board materials were very present on many stands (in their multiple transformed versions), Papeteries de Vizille (Vicat group) was the only representative of the French paper production sector among the exhibitors (picture).
Other highlights and events were also organised:
In a new space, Objectif Zéro Impact, positive impact initiatives, were presented thanks to a unique hybrid event worthy of an exchange platform and a Think Tank. 19 start-ups were able to propose innovative and agile solutions for packaging and maintenance (new materials, reusable and connected containers, robot programming tools…).
The ALL4PACK Innovations area, a showcase of the 2022 Awards, also provided an opportunity to discover the innovations of the winners present in the sectors covered by the show. In addition, 101 innovative packaging products were displayed and explained.
The dedicated routes and tours offered to visitors provided a decoding of innovation, an approach by material and the discovery of machines in operation.
Finally, on 23 November, more than 2,000 exhibitors and players in the sector took part in the Evening, around a concert.
The next edition of ALL4Pack will be held in Paris Nord Villepinte from 4 to 7 November 2024.
V. L.