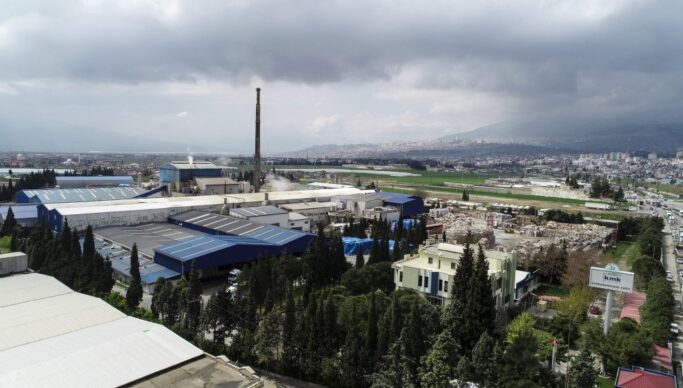 The board producer Kahramanmaraş Kağıt Sanayi ve Ticaret A.Ş. (KMK Paper) in Turkey has selected AFT for their PM1 approach flow rebuild project at the Kahramanmaraş mill near Gaziantep. PM1 is a 2-ply board machine using 100% OCC to produce corrugating medium and linerboard grades. The new system is scheduled to start up in the first quarter of 2023.
"As one of the largest paper producers in Turkey, KMK Paper prides itself on continuous improvement using the latest technologies in developing products that are innovative and eco-friendly", says General Manager Bekir Yemsen.
The PM1 wet end rebuild includes a complete POM approach flow system for both plies, including MaxFlow HB headbox screens, POMix stock processors to feed the paper machine, POMp degassers for air removal, and POMlock drop legs. System engineering and mill site services were also included as part of AFT's offerings.
Compared to traditional systems with silos and tanks, the compact POM system runs efficiently with less water, energy and few web breaks. This will enhance the environmental performance of PM1 while providing fast grade changes, process stability and sheet cleanliness.
"We strive to ensure that sustainability is integrated in all KMK products and make our mill investments with this in mind." Cihangir Hakan OBA, Project Manager at KMK Paper.
"AFT is proud to have been selected for this project and we are looking forward to a successful start-up in the first quarter of 2023", says Bulent Sendag, Sendag Mumessillik A.S., AFT representative in Turkey.