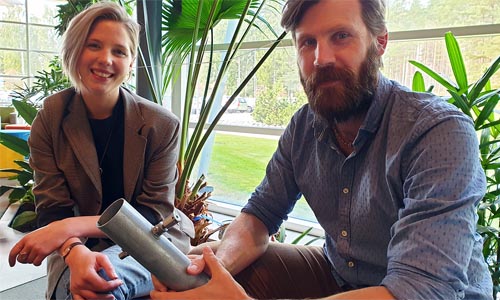 With a founding of SEK 20 million from Horizion 2020, Acosense technology is rising to the next level. The equipment detects changes in the process industry by listening to fluids, and will be further developed in the areas of coating mixtures, optimisation of pulp boilers and petrochemicals.
"We have applied for this funding in competition with companies from all industries internationally. So, it is pretty amazing that a jury that has no connection to the forest industry sees the potential in what we do", says Pia Holmberg, Marketing Aanager at Acosense, a member of the bioeconomy cluster Paper Province.
The funding from Horizon 2020 is granted to very few and comes with great opportunities.
Listens to fluids
Acosense's unique concept uses a non-interventional equipment, consisting of two microphones and a speaker, to listen and analyse fluids passing through industrial pipes.
"Sound is just vibration, which the microphones pick up. One mic listens to a signal that is unaffected by the liquid and the other one listens to one that is affected. In that way, it is possible to detect changes", explains Karl Nilsson, CEO of Acosense.
At the moment the technology is installed at 40 places in the chemistry, paper and pulp and the food industry. It can analyse three properties of a liquid at the same time, for example density, viscosity or concentration.
Over time, it has been possible to collect so much data that many efficiency improvements have been implemented by Acosense´s customers.
Three areas of the project
With the two-year Horizon2020 project, about to start in October, Acosense will further develop the technology and concept in three areas.
The first one includes coating and how to analyse and optimise the mixture that is used in cardboard machines, in order to reduce waste and increase quality. The second area focuses on sulphate pulp boilers and how to optimise raw material utilisation and the quality of the fibre. The third area is in petrochemicals and is partly about adapting the technology to the conditions that come with the explosive environment, in order to be able to safely analyse the concentration in liquids.
The hardware of the technology is the same for listening to all fluids, what's changed in the different cases the software.