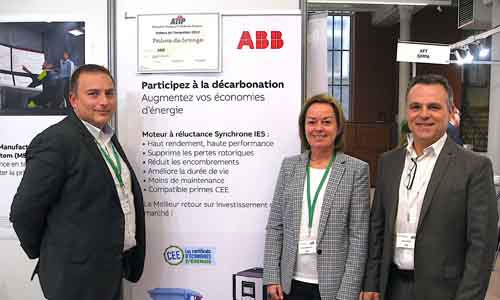 On Thursday, December 8th, ABB teams were awarded Bronze Innovation award by the Association Technique de l'Industrie Papetière (ATIP) in recognition of the technological innovation: the synchronous reluctance motor (SynRM).

The award was presented to Alain Pitte, Director of ABB France's Process Automation Process Industries Division, who was present at the event, which brought together all the players in the French paper industry. Organized every year by ATIP during its congress, this innovation contest values suppliers' efforts in terms of technological innovation to meet the challenges of the paper industry. Another award is also given to paper manufacturers during the event.

"We are proud to receive this award. The ATIP Innovation Award is a recognized distinction in the paper industry and we are delighted to be able to offer this SynRM technological innovation to our customers in search of energy savings and productivity. ABB has always been committed to developing innovative solutions to build a more productive and sustainable future," said Alain Pitte.

The Synchronous Reluctance Motor (or SynRM) is an innovative technology that is ideal for the paper industry because it is adapted to its operational requirements. Saving energy and reducing production costs are the promises of this revolutionary motor, which looks like a traditional induction motor.
The innovation is in the rotor, which reduces losses while offering greater efficiency and unprecedented reliability. Available for all industrial applications, this world-proven ABB technology allows you to
Save energy and money

Improve your efficiency while working in a more pleasant environment

Reduce your environmental footprint by reducing carbon emissions.



The ATIP congress took place this year at La Grande Crypte in Paris, on December 8th and 9th, 2022. Numerous conferences were organized as well as exhibition booths to present the latest news and technical developments in the paper industry. During this event, ABB highlighted its portfolio of innovative technological solutions dedicated to paper. It was also an opportunity to discuss with customers about their current issues: energy saving, operational efficiency, productivity…