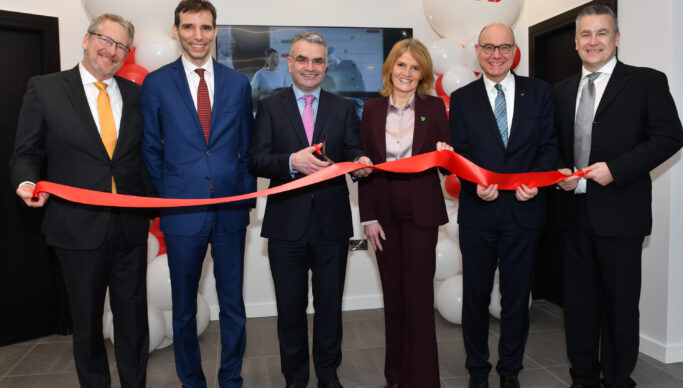 Today, ABB officially opened a global research and development (R&D) center for the pulp and paper industry in Dundalk, Ireland.
The new multi-million-dollar ABB Dundalk R&D Centre is at the heart of ABB's automation and digital offering for the sector and will be home to the ongoing evolution of the ABB Quality Control System (QCS). New ideas and products will be piloted and managed into the suite of applications for improved quality in the complex world of papermaking, where manufacturers often struggle to balance ever-changing variables to produce paper to customers' particular specifications. This will include solutions for measuring, adjusting, optimizing and controlling quality as the paper web makes its way through the paper machine to form the end-products, including paper and board.
ABB's vision for the center is to develop solutions that respond to global trends and can meet the sustainability goals of the rapidly evolving industry. A new QCS, for example, has the potential to reduce annual waste (production losses) by two percent or more per paper machine. This can impact a mill's sustainability goals by also reducing annual emissions for each machine by the same two percent, or 1.1 kt CO2, using the assumption of 57 kt CO2 emissions for a typical paper/board/tissue machine.
This project is supported by the Irish Government through IDA Ireland.
"This is a very welcome investment in Louth and the wider region and is an endorsement of the area as an excellent place for businesses to thrive and grow," said Dara Calleary T.D., the Minister for Trade Promotion and Digital Transformation. "ABB's new center here in Dundalk will support technology advancement in the pulp and paper industry with the creation of up to 30 new highly skilled jobs to the area. The new R&D facility will provide an exciting space for innovation to help papermakers in areas such as waste reduction, reducing emissions including finding new ways of reaching sustainability goals. The Government is hugely supportive of any new innovations that help us reach our goal of protecting the future of our planet. Thanks to ABB for their continued investment in Ireland. Congratulations to all the team, and I wish you the best with this exciting new chapter."
The center will take advantage of modern technologies such as additive manufacturing (3D printing), collaborative robots and Augmented/Virtual Reality for training and field service delivery to better meet the needs of ABB's pulp and paper development team. The site will also include a new training hub that will provide skills development support for ABB and customers alike, enabling more cross-industry partnerships and collaboration.
"ABB's Pulp and Paper business grows year on year, and this investment into our Quality Control Systems development will allow us to sustain our global market leadership and push the industry forward for the next generation of papermakers," said Joachim Braun, Division President, Process Industries, ABB. "With Ireland ranked in the top 10 EU countries for innovation and boasting the fourth-highest international share of workforce in the EU, it is the perfect location for our new R&D site. From this base, we will continue to advance the future of the industry and pioneer new technologies to meet the evolving needs of our customers."
"ABB has been a leading employer in Dundalk for 40 years," said Mary Buckley, Interim CEO, IDA Ireland. "This new R&D centre is a significant expansion and is very much aligned to IDA Ireland's Sustainability pillar that is central to our current strategy. I wish ABB every success with this multi-million-euro investment."
IDA Ireland was originally created to help attract foreign investment into the country and has links to ABB stretching back to the 1980s. A government-backed autonomous state agency, the organization continues to support companies to access Ireland's skilled and diverse talent base through university and professional associations.
"This new center represents ABB's proud heritage and presence in Ireland, which is extremely important to us," said Michael Kerley, Global Technology Manager for ABB Pulp & Paper, and Dundalk local. "In addition to being a hub for technological innovation in the pulp and paper industry, the new center will play a vital role in creating up to 30 high-level job opportunities over the next three to five years, thereby bolstering the talent pool in Ireland and supporting the local economy."
Dundalk is one of ABB's four main Pulp and Paper R&D centers globally, along with Bangalore, Singapore, and Stockholm. It will also serve as a sales and service office for ABB Robotics & Discrete Automation, who have had a presence in Ireland for 25 years. The facility will provide an excellent base from which to foster new ways of collaborating across business areas to better serve customers. In Ireland, ABB has around 180 employees spread across five locations.
Recruitment is ongoing and will expand the existing workforce of 40+ multi-disciplinary R&D members from over 12 different nationalities, to make up a team of STEM-based roles comprising physics, engineering, electronics, mechanical, software, project management and sales experts.
Job vacancies can be found at job openings at ABB Ireland.