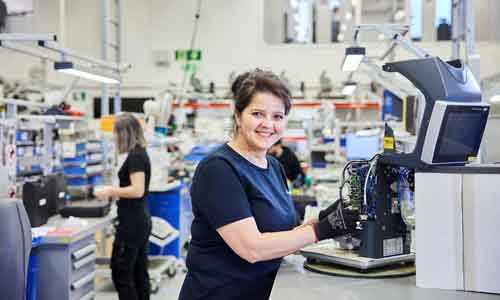 As part of efforts to strengthen operations around the country, the cross-divisional workforce based in or near Stockholm has consolidated under one roof, moving to ABB Pulp and Paper's Kista-based manufacturing facility.
The Kista office, located in Viderögatan, Sweden, is the headquarters of ABB's L&W business unit, which manufactures equipment for quality testing, process measurement and optimization for the pulp and paper industry. Today, approximately half of the global workforce supporting L&W products is located in Kista, including employees working in R&D, service and production.
The renovation of the existing L&W manufacturing site includes updating both the office landscape and production environment. Additionally, employees who were previously based in ABB's Knarrarnäsgatan facility have moved to Viderögatan, which has been the home office of the acquired Lorentzen & Wettre business – the pioneers of the L&W product line – since 1977. These employees represent most of ABB's other Business Areas including electrification, e-mobility, motors and drive systems, instrumentation, and machine and factory automation.
"The investment has enabled us to increase our production volume by 30 percent. We see a constant increase in demand for products and solutions that enable a fully automated, optimized and connected production process for our customers," said Per Sandström, head of ABB in Kista and L&W Business Unit Manager. "By gathering all ABB employees in the Stockholm region under one roof, we can more easily collaborate and facilitate our customers' transition to sustainable operations."
The premises have been adapted to a modern and flexible way of working as well as for continued expansion of the business. Due to its easily accessible location just outside of the Stockholm city center, conferences and training sessions are frequently arranged.
"Our workforce is constantly growing, and we see a need for a number of different roles – from salespeople, engineers and project managers to employees in service and production. Our experts are crucial in helping the industry achieve the highest quality standards, reduce energy consumption and minimize downtime," said Sandström.