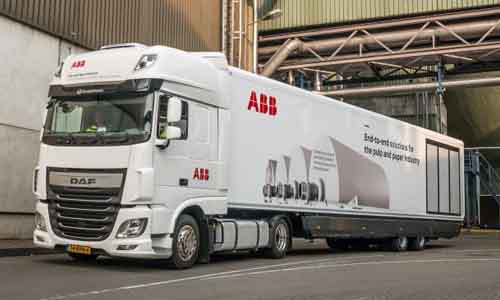 For the second year running, ABB has hit the road in a specially designed truck to visit its customers in the pulp and paper industry. After visiting Europe, including Spain, Italy, Austria, Germany, Finland or Turkey, ABB Pulp and Paper truck tour continues its journey in France from November 15th to 25th.
The ABB European Pulp & Paper Tour gives customers an opportunity to experience ABB's vision for the future of paper mills. They will experience the latest solutions and insights that can help to ensure mills achieve the highest quality standards, reduce their energy consumption and minimize downtime.
An innovative European tour
The ABB European Pulp & Paper Tour showcases a fully automated, optimized and connected mill environment, complete with laboratory, operator, and paper machine environments – all on board a truck.
Technologies include:
ABB Ability

TM

suite – a suite of pulp and paper digital solutions that utilize mill data to visualize

trackable KPIs on a user-friendly dashboard to optimize mill performance

ABB Ability

TM

Management Execution System – applications from order management through

production planning and quality management to provide the efficiency and transparency

needed to optimize production

Control room solutions – human-centered control room design puts focus on the operator for

safer and faster operations

Fully integrated control system – ABB Ability

TM

System 800xA demo integrates distributed con

trol system (DCS), quality control systems (QCS), safety and paper machine drives control func

tionality into one single operator interface for a wholistic view of the process.

Advanced Process Control (APC) solutions – large portfolio of APC applications, such as Wet End

Control, that help stabilize and optimize process performance

Process imaging suite – web imaging and web monitoring systems that enable operators to ef

fectively troubleshoot operational issues, reduce cost, increase machine efficiency, and improve

product quality

Automated paper and board testing – ABB L&W Autoline reduces testing variation and measure

ment uncertainty

Process measurements – innovative solutions for accurate measurement and process optimiza

tion
" This is a great opportunity to take our solutions to the customer and to showcase ABB's expertise and technical know-how. The truck will be coming back to France again, so please contact us if you would like to book a visit for your mill", said Alain Pitte, French Director of ABB Process Automation Process Industries. "
The truck has been an appreciated concept wherever it has gone and we are glad to be able to help our customers increase their efficiency and profitability on their own sites."
The truck will travel to customers around the country until November 25th, after which it will continue its journey to other European destinations. Read more about the ABB European Pulp and Paper Tour here:
https://new.abb.com/pulp-paper/european-pulp-and-paper-tour
To plan 2023 next visit in France, contact us: eu-pnptour@abb.com