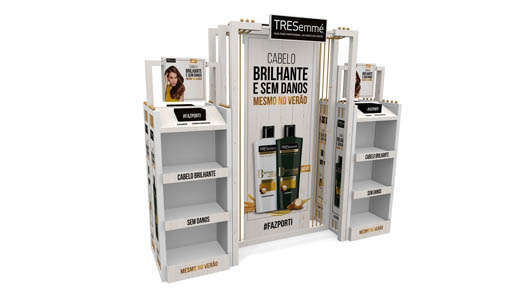 DS Smith's factory in Portugal, specialised in displays for point of sales, received a PAPIES 2019 award last June 5th.
The award-winning equipment, in the category of displays for point of sales, was a cardboard island, consisting of a modular structure, integrating real ropes as a true stand- out feature. This eye catching and attractive solution, structurally developed for Unilever FIMA, provided great prominence to the Tresemmé brand.
In the aim of creating differentiating displays for point of sales, assisting brands in their promotional campaigns, the DS Smith Displays team works side by side with its customers, designing high-impact, innovative projects. The award-winning display of this Papies edition is a clear example of an excellent result that can be achieved when developing a solution in close collaboration with the customer. In addition to convey efficiently the brand's message and complying with sustainability requirements, our wide offer of corrugated cardboard displays provides high visibility to the products on display resulting in an increase in sales.
Every year, the Portuguese magazine "Revista do Papel" organizes the Papies awards, with the purpose of recognizing the best works in the area of graphic communication in Portugal. Following a consolidated tradition of 28 years, these awards bring together hundreds of professionals annually from the most varied industries working in the area of graphic communication and packaging.