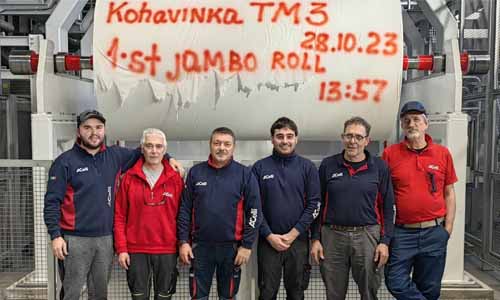 Despite the extremely difficult situation created by the ongoing conflict, A.Celli and Kochavinska Paper Factory teams managed to start up the new iDEAL® tissue line provided for the plant located in the Lviv region.
A.Celli and Kochavinska Paper Factory show the result of their joined forces: the first tissue paper roll produced with the new A.Celli turnkey plant located in the Lviv region, Ukraine.
The difficulties caused by the war posed a real challenge to the success of the project, leading to the search of new ways to complete the planned interventions. Thanks to this approach, A.Celli managed to install the plant and perform the commissioning and start-up with very few field resources and intensive remote support, once again confirming itself as a company ready to be at its customer's side in any situation.
The tissue paper production line supplied to Kochavinska Paper Factory includes an iDEAL® START 1.500 tissue machine, an R-WAY® roll handling system and a three-ply E-WIND® T80S slitter rewinder.
The tissue machine is also equipped with the new A.Celli EVO-LOCK® Yankee Dryer, which in the present case features a 12' diameter for a paper width of 2850 mm at reel.
This innovative Yankee Dryer, the evolution of the previous A.Celli FORGED YD, combines the same forged steel shell concept of its predecessor with a patented
connection system between heads and shell that does not require welds nor bolts.
This system further reduce the already low number of inspections required by a solution with a forged shell, and allows to achieve greater efficiency and safety
while maintaining the proven drying capacity of an A.Celli Yankee Dryer.
After the successful start-up, Mr. Roman Vasilyevich Pirig, Chairman of the Board of Directors of Kochavinska Paper Factory, affirmed:
"We are happy to finally see this 2 production line up and running, given the obvious difficulties caused by the war. A.Celli's and Kochavinska's teams managed to achieve a great result, and we have no doubt that the line, equipped with this innovative Yankee Dryer concept, will be a source of great satisfaction for us".

"I am very glad that the Embassy of Ukraine in Italy has succeded in facilitating this project, which made it possible to modernize the production of the Ukrainian Kochavinska Factory with the best Italian technologies and equipment" said Mr. Yaroslav Melnyk, Ukrainian Ambassador. "It is very important for us that the production in such socially important sector as paper continues and even develops during the war. I hope that many italian businessmen will follow A.Celli's extraordinary example of work and start their joint projects with Ukrainian partners in the near future."