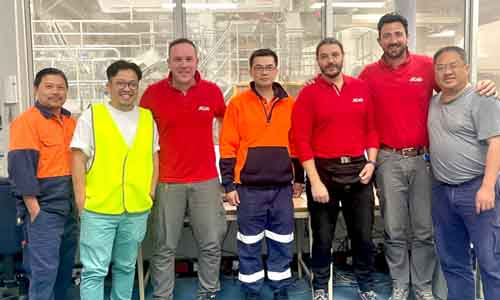 The longtime Australian customer relied on A.Celli to modernize their DCS system during the planned downtime of the PM1 in the Wetherill Park, Sydney (Australia) plant.
ABC Tissue and A.Celli, whose first project together dates back to 2006, joined forces again to upgrade the DCS system of the PM1 in the Wetherill Park plant. The planned downtime for the change of the press and felt and the installation of a new Quality Control System (QCS) was the perfect occasion for the A.Celli team to provide the needed interventions, including:
The

virtualization of the system

, thank

s

to the replacement of 6 physical PCs

with a pair of redundant servers, virtual machines and thin client

Replacement of 2

obsolete CPUs

with a

single latest

–

generation CPU

Integration of the new QCS system

installed by the company

Preparation for communication

between the

PM1

and the

upcoming

PM2

which will be supplied

by A.Celli
Furthermore, the new system makes the plant ready for digitization from an Industry 4.0 point of view, with the possibility of collecting data from the machines and sending them via Cloud technology for monitoring and optimization purposes.
"Since the beginning of our partnership in 2006 – the start up of the first machine acquired by our company – A.Celli has always provided strong support to us in our quest for continuous improvement. This is why we decided to rely on A.Celli both for the supply of the new PM2, now in the commissioning phase, and for the upgrade of our state–of–the art PM1, certain of the success of both projects" These were the
words of Brandon Ly, Director of ABC Paper Mills.