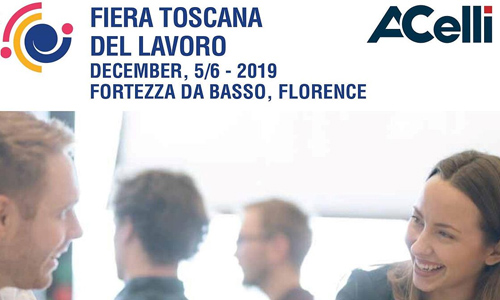 Over 100 important companies from various sectors for around 230 professional profiles, for a total of over 650 available jobs – Florence, Fortezza da Basso – December 5 and 6, 2019
The event, funded by the European Social Fund and promoted by the Tuscany Region, aims to encourage direct contact between people seeking employment or professional retraining and companies that are performing recruiting.
Until November 15th the candidates' curricula have been collected and selected and, during the fair, those who have passed the first evaluation step, will have the opportunity to meet the companies directly.
Friday, December 6th, from 09:30 a.m. to 06:00 p.m., A.Celli Group, represented by Dr. Alessandra Pulvirenti, Head of Human Resources, will be in Florence, Fortezza da Basso, to meet the shortlisted candidates.
During the event, candidates and visiting students can also attend seminars and workshops held by experts in human resources.