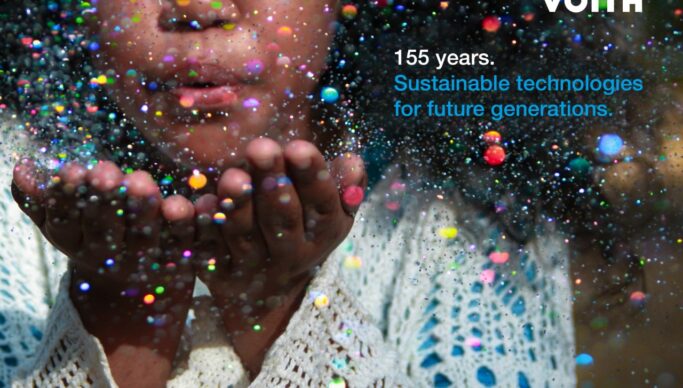 Voith celebrates 155 years of operations
This month, the Voith Group will mark its 155th anniversary. Beginning as a locksmith's workshop with 30 employees that was passed down to Friedrich Voith from his father in 1867, Voith has evolved into a global company with a workforce of around 20,000 in more than 60 countries around the world. To this day, Voith combines the values of a sustainability-oriented, family company with cutting-edge technological innovations.
Voith innovations as industry standards
Just a few years after it was founded, Voith was making paper available as a bulk commodity using innovations like the wood grinder. At the same time, Voith was making a name for itself as a pioneer of hydropower. The innovative strength and internationalization of the company continued throughout the 20th century. Innovations like the Voith Schneider Propeller (marine propulsion system); the Kaplan turbine (for use in hydropower plants); the development of the hydrodynamic principle (Föttinger principle); and the deinking process, which ultimately enabled the use of recovered paper for paper manufacture, are all inextricably linked with the name Voith and are regarded as industry standards today.
Three Group Divisions deliver tailored solutions for our customers
Since its establishment, Voith has evolved into a corporation with three Group Divisions: Voith Hydro, Voith Paper and Voith Turbo. Voith is continuously working on innovations geared towards better ecological performance, increased efficiency, and fewer CO2 emissions. The company has a comprehensive range of technological solutions and services that allow it to reduce greenhouse gas emissions throughout the customer's entire supply chain: with Voith Hydro as a full-line supplier of hydropower technology in the field of renewable energies; Voith Paper as a pioneer in the paper and packaging industry in the area of renewable resources and circular economy; and Voith Turbo as a specialist for intelligent drive systems and solutions in the alternative drive segment.
Sustainability as a business model
Voith was quick to recognize how important sustainable technologies are for subsequent generations and has made industrial sustainability its business model. The company is driving the decarbonization of industry with its products and is a reliable partner that helps customers achieve their sustainability and climate goals. Voith also provides digital solutions to support its customers as they strive for more sustainability. Since 2022, Voith itself has been operating net climate-neutrally at all its locations worldwide, making it a global pioneer in the plant and mechanical engineering industry.
Responsibility for society
For many years, Voith has been supporting numerous projects and initiatives worldwide in areas like education and training; science and research; social welfare; and sport and culture. In communities where Voith operates, the company helps create an attractive living environment and provides support for children, adolescents, young adults and those who are socially disadvantaged. In this anniversary year, Voith has launched a new funding program named #VoithCares, which provides financial support to 50 social projects worldwide and pays tribute to the voluntary work done by Voith employees.
The company celebrates its 155th anniversary this year with various celebrations and activities for employees at Voith's headquarters in Heidenheim and other Voith locations worldwide.